Our UV identifiable primer for adhesives is an adhesion promoter for hard to bond substrates. When highlighted with an ultraviolet light, the exact location of the applied primer can be seen. This aids in accurate application of an adhesive or tape. This UV identifiable primer can be used on surfaces such as polyethylene, polypropylene, ABS, PET/PBT blends, concrete, wood, glass, metal and painted metal surfaces.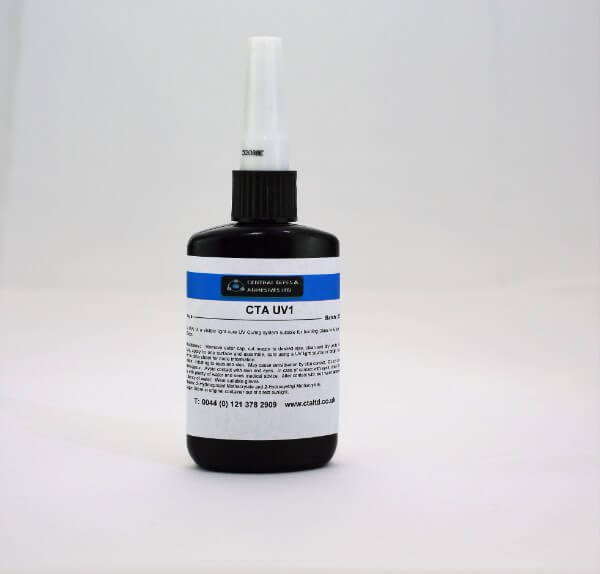 How to apply CTA's UV identifiable primer for adhesives
Apply a thin, uniform coating to the bonding surface with a brush or a swab, using the minimum amount that will fully coat the surface. This primer can also be applied with a pressurised flow gun, roller or other similar type of application equipment.
Allow the primer to dry thoroughly before applying the tape or adhesive. This is usually accomplished in five minutes at room temperature.
Ensure the primed surface remains free from contaminants prior to applying the tape or adhesive.
Not that porous surfaces may require two applications of primer for a uniform coverage and good adhesion. Make sure that the first coat is dry before the second coat is applied.
See also our regular primer for adhesives.
After using the primer for adhesives, we also recommend using a micro lint free cloth with our IPA Cleaner degreaser to prepare a surface before bonding. This ensures that the surface is completely clean and free from dust, dirt and grease.
Purchasing primers for adhesives
Our UV identifiable primer for adhesives is available to purchase bottles of 236.5ml. A UV identifiable primer is also available. For other variations and quantities, please contact us. All prices are inclusive of VAT.
If you have any questions, do not hesitate to contact us via the yellow chatbox, fill out our online contact form, email us at [email protected], or call us directly on +44 (0) 121 378 2909.