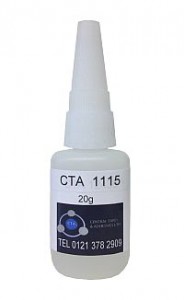 Cyanoacrylate 1115 HV super glue is a fast curing High viscosity Ethyl Cyanoacrylate adhesive. It is suitable for bonding a very wide range of materials, including some porous ones, where fast bonding is required.  Cyanoacrylate 1115 HV super glue is normally hand applied from the bottle.  Apply sparingly to one surface and press parts firmly together until handling strength is achieved.  As a general rule, as little adhesive as possible should be used as over application will result in slow cure speed and lower bond strength.   Speed, 20 seconds at 20°C, Viscosity, 1500cps.  Formulated to provide high tensile and shear strength.
Standard size of 50ml available to purchase on line in boxes of 10
If you require further details on our super glue or would like prices on different sizes, please contact us
Cyanoacrylate 1115 HV super glue application
Cyanoacrylate 1115 HV super glue is used in a huge cross section of industrial applications. From OEM to MRO industries, this grade can be used on a variety of plastic, rubber and metal bonding applications including automotive, white goods and furniture manufacturing. Typical bonding examples are rubber leather and fabrics, plastic components, metal clips, identification tags to equipment, white goods.
For difficult to bond surfaces or where there are gaps or porous surfaces, CTA activators may be required.  Ensure parts are clean, dry and free from oil and grease.
Store in a cool area out of direct sunlight.  Refrigeration to 5°C gives optimum storage stability.
Price shown is the price your pay (inclusive of VAT)