Synthetic grass glue is a polyurethane adhesive used when seaming joints, whilst laying synthetic lawns and sports flooring. It is available in two handy pack sizes. Please see the chart below for more information and read on for details of synthetic grass glue application. Our range of artificial lawn adhesives are suitable for all the different types of 'fake grass', from the standard replacement of domestic lawns to the more durable sports and playground surfaces. This type of artificial grass is more commonly called 'astro turf".
All of our products will bond the surfaces to the jointing tape or layer of weed control. The decision of which product to use comes down to size of the lawn and length of joints as well as the personal preference of the fitter as to whether they prefer to 'bead out' from a cartridge or mix and pour from a larger tube.
Shown below are some photos taken during a typical application. Our product is quick and simple to use.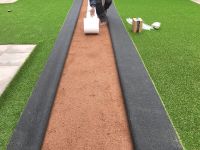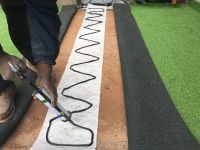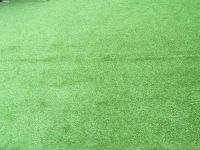 Synthetic grass glue product information
| Pack Size | Open Time | Fixture Time | Colour | Coverage |
| --- | --- | --- | --- | --- |
| 310ml Cartridge | 15 minutes (at 20°C) | 1 – 2 Hours | Black | 2 – 3 linear metres (approx) |
| | | | | |
| 6.5kg Kit | 15 minutes (at 20°C) | 1 – 2 Hours | Grey | 60 – 70 linear metres (approx) |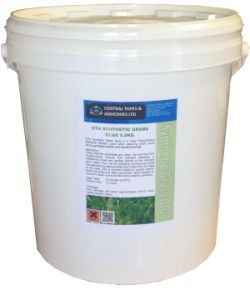 How to apply CTA Synthetic Grass Glue
Check that the substrates are clean, dry and free from contaminants. Ensure that sufficient adhesive is applied directly to the intended joint or seam. Bead or pour out the synthetic grass adhesive continuously along the tape leaving approximately 5cm clear from the edge of the tape. Use a serrated trowel to spread evenly. Once the grass has been positioned, apply weights to the joint/seam to ensure that a flat and even surface is achieved. Once the adhesive has cured you will have a strong and durable joint which will last for the life of the artificial lawn, artificial turf, astro-turf, sports flooring or playground surface.
For more information on our synthetic grass adhesive or to purchase one of our products, please contact us on 0121 378 2909 or purchase the adhesive directly below.
Price shown is the price you pay (inclusive of VAT)