Description
High performance tape 6105 is a double-coated, polyester tape for demanding bonding applications. This tape can bond substrates such as metals, glass, plastics and painted surfaces. High performance tape 6105 is often used in bonding large banners and plastics in signage.
6105: 6 (structural tape), 1 (acrylic),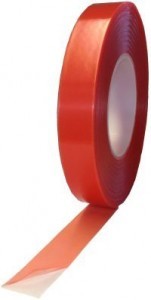 See also clear foamed acrylic tape 6110, white foamed acrylic 6110 signmakers tape and grey foamed acrylic tape 6110. For extreme high temperature applications, we recommend pre powder coat tape 6189HT.
How to apply high performance tape 6105
Before applying high performance tape 6105, surfaces should be clean, dry and free of any dirt, dust and grease. For the best results, we recommend using CTA IPA Cleaner Degreaser.
Use sufficient pressure over the whole surface at room temperature to ensure maximum adhesion to substrates.
The ideal application temperature is between 21 – 40°C.
Elevated temperature following application (60°C for 1 hour) improves adhesion wet-out.
Primers can increase the bond performance and surface tension. We recommend CTA Primer or CTA UV Identifiable Primer to achieve the best results.
Ensure uniform stress distribution
Purchasing special thicknesses
Our high performance tape 6105 is available to purchase online in single rolls at 0.25mm thickness. For other thicknesses, as well as specific slit widths and die cuts, please contact us. All prices are inclusive of VAT.
If you have any questions, do not hesitate in contacting us via the yellow chatbox, fill out our online contact form, email us at [email protected], or call us directly on +44 (0) 121 378 2909.