Glass Bevel Bonder UV1 curable adhesive is normally manufactured as a single part liquid, which can range from a water-like thickness to a non-slumping gel. When the adhesive is exposed to a predetermined intensity of ultraviolet light, the liquid acrylic adhesive quickly turns into a solid thermoset polymer, adhering to the mating substrates.
See also Glass Metal Bonder UV2, Plastic Bonder UV3 and Plastic Bonder UV4.
Benefits of glass bevel bonder UV1
This UV technology offers the user virtually unlimited repositioning time, coupled with a rapid cure on demand.
The cured adhesive can offer total visual clarity, focusing this range of adhesives on the growing industry of glass bonding.
This product is predominantly used when bonding glass to glass. Its full strength is obtained when exposed to UV light.
How to apply glass bevel bonder UV1
Before dispensing this product, ensure that surfaces are clean, dry and free of any dirt, dust and grease. For the best results, we recommend using CTA IPA Cleaner Degreaser.
Use sufficient pressure over the whole surface at room temperature to ensure maximum adhesion to substrates.
The ideal application temperature is between 15– 25°C.
Primers can increase the bond durability and surface tension. We recommend CTA Primer or CTA UV Identifiable Primer to achieve the best results.
Ensure uniform stress distribution.
For more information, read our guide to surface preparation for adhesives and best working practice. Please contact CTA for full details of dispensing and UV curing lamps.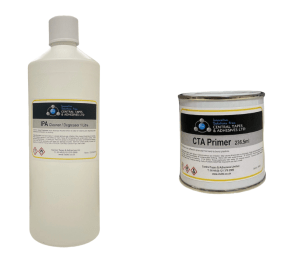 UV curing adhesives product information
Ultraviolet (UV) light curing adhesives, also known as light curing materials (LCM), have become popular within the manufacturing sector due to their rapid curing time and strong bond strength. Light curing adhesives can cure in as little as a second and many formulations can bond dissimilar substrates (materials) and withstand harsh temperatures.
These qualities make UV curing adhesives essential to the manufacturing of items in many industrial markets, such as electronics, telecommunications, medical, aerospace, glass, and optical. Unlike traditional adhesives, UV light curing adhesives not only bond materials together, but they can also be used to seal and coat products. They are generally acrylic based.
Purchasing information
This UV curable adhesive is available in 50ml or 250ml. The product has a viscosity of 500-1000 cps, a speed of 5-30 seconds and shore hardness of 45D. For more information, please contact us. All prices are inclusive of VAT.
If you have any questions, don't hesitate to contact us via the yellow chatbox, fill out our online contact form, email us at [email protected] or call us directly on +44 (0) 121 378 2909.