Two part structural adhesive 2120 is an acrylic adhesive and part of our structural bonding range. Capable of bonding Aluminium, steel, engineered plastics and composites together. Combined with high temperature resistance, tensile and shear performance. Our acrylic range is also capable of filling gaps up to 10mm whilst maintaining it's structural strength and characteristics.
2120 has a 12 minute working life with a 20 minute fixture time. it is available in 50ml, 400ml for use with manual or pneumatic applicators. If larger volume is required then 20 Litre pails and 200 litre drums are available. The later two options require bulk dispensing units. (Please contact us for more information)
Standard sizes and colour available to purchase online: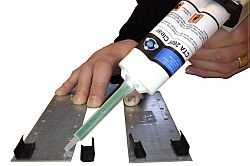 12 x 50ml Neutral (1 Box)
12 x 400ml Neutral (1 Box)
Contact us to discuss variations on colour, size, product or to speak with our technical team to discuss your application.
Also available
CTA 2105 (5 minute working life with a 12 minute fixture time)
CTA 2150 (50 minute working life with a 80 minute fixture time)
Two part structural adhesive 2120 application
This product is often specified when bonding aluminium (and other metals) joints together in architectural cladding applications. Also suitable for composites or metal brackets to GRP / FRP composite structures.
A Methyl Methacrylate is basically the methyl ester of methacrylate acid. It's primary use is to manufacture a number of different plastics, but is also the main ingredient in a range of adhesives products. Methacrylate adhesives are supplied in a two part system, that when mixed offer a controlled cure speed suited to the application. The cured adhesive can offer incredibly high tensile, shear and peel strength, whilst also resisting impact loads at both elevated and sub zero temperatures. This unique chemistry is unrivaled in its ultimate combination of convenience, ease of use and superior mechanical strengths for bonding engineered plastics, composites and metals.
When using Two part structural adhesive 2120 it is always best to clean and prepare the surfaces prior to bonding them.
See also our two part structural adhesive 2105 and our  trial kits two part adhesives
NOTE:  To use this adhesive you will need a nozzle and an application gun, available to purchase below along with our adhesive
Price shown is the price you pay (inclusive of VAT)