Low strength thread locker 1225 purple is a low strength anaerobic thread locker, designed to allow easy dis-assembly of metal threaded components. 1225 is thixotropic, which reduces the migration of the liquid adhesive following application. Once applied, the 1225 only cures when confined between the two mating metal parts. Despite the controlled low torque dis-assembly that the 1225 provides, the 1225 still maintains excellent vibration and shock resistance.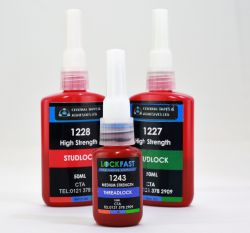 Sizes: 10ml, 50ml, 250ml
Viscosity: 1200 – 5000
Speed: 20 mins @ 25°C
Dispensing equipment available upon request
Low strength thread locker 1225 purple applications
CTA 1225 purple is well suited to metal fastener applications, where prevention of vibrational loosening is required. 1225 is ideal on set screws, threaded nuts, bolts, screws, hex and slot driven components, including keyed fasteners.
Low strength thread locker 1225 purple preparation
For best results clean all surfaces with a cleaning solvent and allow to dry.
If the metal is inactive apply suitable CTA primer.
Shake the product thoroughly before application.
Apply the adhesive to the fixing position of the fastener or onto the internal threads of a blind hole.
Use suitable methods to assemble components, and tighten to required torque level.
Allow low strength thread locker 1225 purple to fully cure before applying load.
You may be interested in other products in this range are: