CTA Silicone General Purpose is an acetoxy curing silicone that provides a permanently watertight flexible seal and has good adhesive properties. It is suitable for use on glass, aluminium, painted surfaces, sanitary ware, ceramics and non-porous surfaces.
See also our Silicone High Temperature.
Benefits of silicone general purpose
Silicone general purpose is ideal for sealing around door and window frames, as well as around pipes and sanitary fixtures.
This product can also seal glass to glass and glass to aluminium.
This curing silicone can provide draught proofing casement for windows and doors.
The product can also be used in sealing duct work and topsealing in glazing systems.
How to apply silicone general purpose
Before this product, ensure that surfaces are clean, dry and free of any dirt, dust and grease. For the best results, we recommend using CTA IPA Cleaner Degreaser.
Cut the cartridge seal to the required size and screw on the nozzle.
Using a skeleton gun, apply the sealant into the gap or joint to provide a solid fill.
If needed, place masking tape along edges, removing within 5mins of application.
Use sufficient pressure over the whole surface at room temperature to ensure maximum adhesion to substrates.
The ideal application temperature is between 15 – 25°C.
Primers can increase the bond durability and surface tension. We recommend CTA Primer or CTA UV Identifiable Primer to achieve the best results.
Ensure uniform stress distribution.
For more information, read our guide to surface preparation for adhesives and best working practice.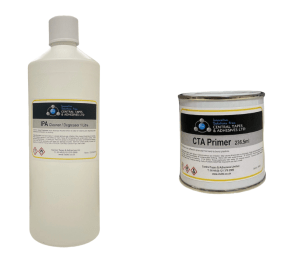 Purchasing information
Our curing silicone is available in 310ml, in boxes of 25, in white, clear, brown, black or grey. For more information, please contact us. All prices are inclusive of VAT.
If you have any questions, don't hesitate to contact us via the yellow chatbox, fill out our online contact form, email us at [email protected] or call us directly on +44 (0) 121 378 2909.