Crusher Backing Compounds for Cone Crushers provide ultimate impact protection and extend tool life.
CTA PU based crusher backing compounds have been designed to provide high performance and reliability in even the most demanding environments. They can be easily applied and provide maximum protection against impact and vibration. CTA Crusher Backing has been formulated to be suitable for all types of cone crushers.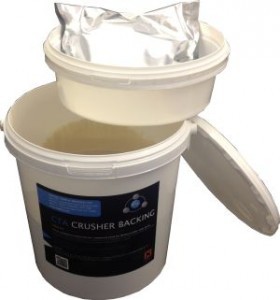 Using polyurethane based technology, we have reduced health and safety issues and costly transportation compared to Epoxy based products (i.e. this is a non-flammable product). It has very good compressive and flexural strength with minimal shrinkage.
It is now neatly packaged in a single tub with the activator self contained within a foil bag. It mix ratio is 8.33 : 1.67 (by weight) and therefore there is no pre-heating required, even in cold conditions.
CTA Crusher backing resin compound is shipped globally and we now have a base in the USA!
Crusher backing polyurethane compound specifications
CTA Crusher Backing is a low viscosity product allowing easy mixing and pour-ability.
Release agents are also available to accompany this Crusher Backing to ensure a clean and easy removal when servicing and completing replacement.
Size: 10 Kg kits
Contact us now for a free quotation or helpful advice