Description
Double-sided foam pads 512525 are a ideal for retail or the signage market. They are ideal for light weight signage. Conveniently die cut into square pads with an oversized liner for easy removal. Temperature range -20°C +90°C. These double-sided foam pads are 1mm thick and used in the signage industry, such as internal or external Foamex signs. This tape is available in white and black upon request with a removable blue liner. sold 2000 per bag.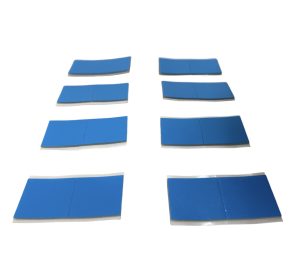 Benefits of double-sided foam pads 512525 (25mm x 25mm)
These double-sided pads are used in the signage industry, such as internal and external Foamex signs.
Temperature range -20°C +90°C
Thickness: 1mm
2000 pads per bag
See also thick double sided foam tape and structural acrylic tapes.
How to apply double-sided foam pads
Before applying this tape, surfaces should be clean, dry and free of any dirt, dust and grease. For the best results, we recommend using CTA IPA Cleaner Degreaser.
Use sufficient pressure over the whole surface at room temperature to ensure maximum adhesion to substrates.
The ideal application temperature is between 15 – 25°C.
Primers can increase the bond durability and surface tension for difficult to bond materials. We recommend CTA Primer or CTA UV Identifiable Primer to achieve the best results.
Ensure uniform stress distribution.
View our full range of Structural and Thick Double Sided Acrylic Tapes below:
Drag the table left and right to see more.
| Product | Colour | Thickness | Side / Adhesive | Temperature Range | Shear / Tensile | Key Feature |
| --- | --- | --- | --- | --- | --- | --- |
| 6110 | Clear | 1.1mm | Double / Acrylic | -30°C – +180°C | Very High | High Strength |
| 6110 | White | 1.1mm | Double / Acrylic | -30°C – +180°C | Very High | High Strength |
| 6110 | Grey | 1.1mm | Double / Acrylic | -30°C – +180°C | Very High | High Strength |
| 6118LSE | Grey | 1.1mm | Double / Acrylic | -40°C – +160°C | Very High | High Initial Tack |
| 61122R | Grey | 1.1mm | Double / Acrylic | -20°C – +180°C | Very High | Low Surface Energy |
| 6189HT | Grey | 1.2mm | Double / Acrylic | -40°C – +200°C | Very High | High Temperature Resistance |
| 6105 | Clear | 0.25mm | Double / Acrylic | -20°C – +130°C | Very High | High Performance |
| 5175HD | White | 1.1mm | Double / Acrylic | -40°C – +90°C | High | Excellent Weather Performance |
| 5110 | White / Black | 1.1mm | Double / Acrylic | -20°C – + 90°C | Medium | Ideal for Light Weight Products |
| 5120 | White / Black | 2mm | Double / Acrylic | -20C – + 90°C | Medium | Ideal for Light Weight Products |
| 512525 | White / Black | 1mm | Double / Foam | -20C – + 90°C | Light | Ideal for Light Weight Signage |
| 5310 | White / Black | 1mm | Double / Hot Melt Rubber | -10°C – + 65°C | Medium | Ideal for Interior Applications |
| 5320 | White | 2mm | Double / Hot Melt Rubber | -10°C – + 65°C | Medium | Ideal for Interior Applications |
| 5508 | White | 0.8mm | Double / Acrylic | -20°C – + 90°C | High | Ideal for Signage Industry |
| 5508 | Black | 0.8mm | Double / Acrylic | -20°C – + 90°C | High | Ideal for Signage Industry |