Description
This caravan floor repair kit is a great product to deal with delamination, a common problem faced by many caravan and motorhome owners throughout the world. CTA 2640 Epoxy, has been designed for the repair of caravan floors where a spongy or a bubbling floor has occurred.
This delamination repair kit comprises of 1 kg of part A, 500g of part B, 50ml syringe and 25 wooden M8 dowels.
How to apply CTA caravan floor delamination repair kit
Lift existing carpets or vinyl to expose delaminated area. Drill 8mm holes though plywood floor in a diamond pattern with 250mm centres to the edge of the delaminated area. Mix part A & B until a consistent colour has been achieved. Once mixed the adhesive can be injected into the pre-drilled holes. It has been designed specifically for this application to be injected by syringe or needle so that it flows readily to fill the void or gap into which it has been dispensed. The cavity is full when the adhesive starts to flow back out of the hole.
Dowels (supplied) are then inserted into the holes to reinforce the section. If the Caravan floor delaminated section is by a cross member it can be screwed down. If not it can be pressed with a weight or clamped until final cure has taken place, ideally for 24 hours. The newly repaired caravan floor can be sanded level to remove excessive adhesive and protruding dowels.
When drilling the holes take care not to drill through the entire floor. It is also advisable to prepare the area in concern by masking any seams or joints prior to mixing and injecting the adhesive. This will ensure there is minimal squeeze out or seepage.
Delamination may have occurred at a panel edge and it may be possible to lift the facing edge slightly and apply the CTA 2640 repair kit with a spatula if injection is not possible.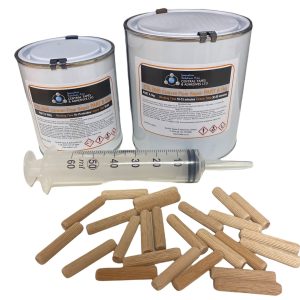 Coverage
A 1.5kg kit is usually sufficient to cover, on average, an area of 1 square metre. This is dependent on the amount of deterioration of the foam beneath, if in doubt call for advice.
If you would like an instruction sheet please call us or hit the link above T: 00 44 (0) 121 378 2909  We are here to help, call the adhesive specialists and talk to our friendly team.
Specification
Size: 1.5kg kit (part A 1kg, part B 500g)
Working time: 10-15 mins
Cure time: 50-60 mins (at 20 °C)
Price shown is the price you pay (inclusive of VAT)