CTA's pre powder coat seam sealer adhesive range is readily available in the UK and from our distributors in the USA and South Africa.  If your company is interested in becoming a distributor for Central Tapes & Adhesives Ltd please get in touch.  We have distributors in the USA, MJB Welding Supply in California and Silver Back Equipment in South Africa.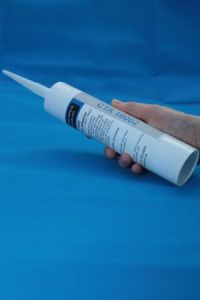 The range consists of three innovative products CTA 15002, (replaced the CTA 15000) we also have a great case study on this product 15002 Pre powder coat seam sealer case study We have advanced forward on this product taking into consideration customers requirements and if you are interested in a more environmentally friendly, solvent free product we would recommend our CTA 15002B both products are heat curing and black in colour.  We have found that many customers have a pre treatment process as part of their production and if you have one also, we would recommend our CTA 16002 which is white in colour and is moisture curing with high temperature capabilities so you can still put this product through an oven bake cycle.  You can read more about the CTA 15002B Pre Powder Coat Seam Sealer and the CTA 16002 Powder Coat Adhesive below.
15002B Pre Powder Coat Seam Sealer
A heat curing adhesive, when cured in the oven 15002B becomes very strong and over-paintable.  Curing and the development of adhesion are not achieved until the material is heated above 130°C, at these temperatures, the adhesive will cure in a single pass through the oven whilst simultaneously having its powder coat finish applied.  Bake window from 175°C to 200°C during 30minutes.  Specifically formulated with a unique chemistry compatible with most metal coating and oils used in the automotive industry.  CTA 15002B is often used by paint and powder coat companies when preparing aluminium panels for the automotive, construction and manufacturing industry.  Car and bus panels can be bonded together with our adhesive quicker than traditional methods.  Also stainless steel stiffeners can confidently be bonded to panels prior to paint cycles within the cladding and commercial façade industry.  This pre powder coat seam sealer forms a solid seal and is suitable for all metal bonding, it particularly adheres well to cold rolled steel, electro and hot dipped galvanised zinc coatings, aluminium etc.  The advantage of using our CTA 15002B is it is non hazardous and not regulated making shipping costs low, environmentally friendly and safe to use.  CTA 15002B is a black viscous paste and available in 310ml single component cartridges available to purchase in boxes of 12 cartridges or why not purchase as part of our trial kit which consists of 2 cartridges 1 of which is the CTA 15002B and the other is our CTA 16002, try both products!
16002 Powder Coat Adhesive
CTA 16002 is a high temperature, moisture curing solvent free adhesive, it was designed specifically to cope with pre treatment or degreasers which are often applied to parts prior to being put through an oven bake cycle.  Our extensive tests proved that 16002 powder coat adhesive once put in place and air dried it is then possible to spray degreasers prior to being put through the oven bake cycle.  Holds parts together whilst being pre treated and put through the powder coat oven cycle at 180°C for up to 45minutes.  We recommend you check the temperature of your oven and simply turn it down for great results!  CTA 16002 is a 290ml cartridge and white in colour and that is where the differences between both the 15002B and the 16002 stop they are both great powder coat seam sealer/adhesives, each cartridge weighs a little over 360gramms so the specific gravity (sg) of the product is higher than most single part cartridges and therefore maintains its beaded position from initial application through to completed powder coat cycle.
Both products bond the same component types and are used in the same industries.  Why not purchase one of our trial kits and try both products to see which one works best for your application?
If you would like to discuss your specific application in more details or want more information on CTA's pre powder coat seam sealer adhesive range, please do not hesitate to contact us. We are here to listen to your needs and assist you offering technical expertise and friendly advice, contact us now
The prices shown below are inclusive of VAT.  Therefore the price you pay is the price shown.