Fibreglass adhesive glue also known as 25-5 is a reinforced polyurethane two part adhesive technologically advanced in its composition. Suitable for a variety of applications within the composites industry such as bonding composite and fibreglass sections and positioning metal brackets and locators to name but a few.  This product is also widely used when bonding all types of plastics and metals.  Their are two products in this range 25-5 has a 5 minute open time with a 20 minute fixture time and the second has the advantage of being slightly slower for a larger bond area, this has a 20 minute open time with 40 minute fixture time and is Neutral in colour.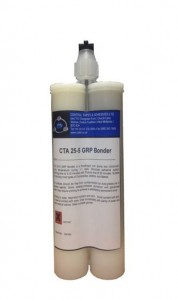 Fibreglass adhesive Environment
CTA's innovative technology in fibreglass glue has numerous advantages, such as having "no odour" which is ideal for the environmental aware.  Environmental legislation within industry has lead to an increase in manufacturers moving to solvent free adhesives due to the clean air act which limits the use of solvents.  This can prove very expensive for manufacturers who exceed their solvent emission levels.  Therefore using a solvent free adhesive can help to leviate the worry.  Site managers are also increasingly looking to meet the stringent health and safety requirements.  Using a hazard free adhesive such as our Fibreglass Adhesive range can eliminate health and safety problems.
Another of the many advantages with this composite glue is no post cure shrinkage which enables customers to bond thin fibreglass or plastic sections without worrying about problems such as "read through" or distortion of the bonded panels.
See Composite GRP adhesive 25-5 for further details and to order online or contact us.