CTA have a superb range of automotive adhesive and tapes. We have numerous products suitable for many applications from panel and trim bonding to specific die cut tapes. Below are the main categories of tapes and adhesive that we offer: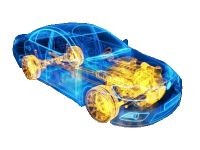 Panel bonding with our structural adhesives
Automotive double sided tape
Specialist single sided tape
Die cut tapes, badges and trim
Specialist automotive adhesives for vehicle production
Within the automotive  industry there are many different requirements for adhesive and tape. Depending on the materials that need to be bonded CTA have a vast array of suitable products. The type of products we offer vary from clear structural acrylics and high grab adhesives to two part structural adhesives.
Tapes and adhesives for OEM's and Tier 1 – 2 suppliers
We currently supply numerous different types of products to OEM's. In addition we also supply and technically advise the tier one and two suppliers to the OEM's. If you would like to benefit from our experience in the automotive sector or have a specific product that requires bonding solutions then please give us a call or email to discuss further.  Contact our technical team now