Ammunition adhesive and sealant equipment manufactured by Hernon Manufacturing the leader in this industry and distributed by CTA Ltd the UK & European technical specialists and distributors for Hernon.
Ammunition adhesive and sealant equipment benefits
• Versatility of working with high number of different calibers with easy tooling exchange within 30-60 minutes per caliber.
• Simultaneous/automatic dispensing & sealing of bullet primer and outer mouth cartridge
• Dual UV/Anaerobic cure mechanism within just few seconds
• Fluorescent sealant formulations for quality control purposes
• Explosion compatibility with most known propellants
• "Important" Volume dispensed by digital servo motor i.e. pump and volume can be digitally controlled with accuracy within +/- 0.5 microliter, via Hernon's Sureshot 3000 series
 Autosealer 5500
System designed to dispense micro precision beads of sealant onto each cartridge/bullet interface and onto each cartridge/primer interface.  UV anaerobic sealants dispensed via digital Sureshot dispensing systems for precision sealant fluid control and consistency capable of delivering volume doses with extreme accuracy.  Cartridge sealant assembly sequence cycle time is 0.2 per second each at 300PPM.  Machine system speed is dependent on input feeding system and cartridge size.
Autosealer 5300
Special features include variable speed to 150 cartridges per minute maximum, designed to seal all pistol and rifle cartridges up to 50 caliber. Dispenses micro-precision shot of sealants onto each cartridge/bullet interface and cartridge/primer interface with extreme accuracy in high volume high production industrial environments.  Optional vision inspection verifies sealant assembly on cartridge case mouth and primer. Utilizes Ultracure 6 and 7 LED UV technology to instantly cure exposed sealants.  The Autosealer 5300 has a flexible robotic machine loading or a dedicated feed systems also available, operator control interface, colour touch screen ~HMI with navigational menus, counters, prompts, statistics and more.  Hernons proven external ammunition sealants dispensed via Sureshot 3500 dispense jetting systems which provide consistent and precise fluid control without making contact.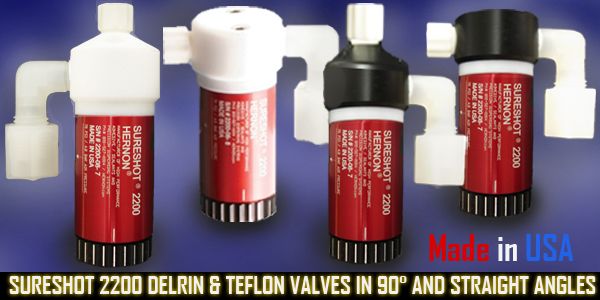 Autosealer 5250
A one of a kind sealing machine engineered to dispense precise amounts of primer on to shotgun ammunition.  Utilising Sureshot 3500 Microjet Technology, the machine is capable of dispensing one microtiter of sealant 6000 shots per minute.  This precision, non contact, high speed dispensing is a result of Hernons persistent commitment to quality and thorough testing.  Additionally, the 5250 comes with Ultraspot 1000 and fiberoptic Lineshot UV curing system for instant curing of all visible sealant.  The Autosealer 5250 is capable of protecting live ammunition, should the sealant conveyor stop, by automatically shutting down all UV lamps.  The 5250 system si equipped with precision touch screen controls for metering ou the perfect measure of sealant.  The Autosealer 5250 is s highly specialised shot shell primer sealing machine capable of sealing 80 rounds per minute and can seal multiple shot shell gauges; 12, 20, 410, 18 and 16.
Ammunition adhesive and sealant equipment Additions
Sureshot 3500 Jetting Device

Ultracure 6 Curing Module
Ultracure 6 is a high output UV LED Curing System with a number of features including Instant ultraviolet curing of visit sealants and adhesives with a UV output of 2.5 watts/cm2 at 365mm.  17,000+ hours of LED life.  A low power input consumption / high intensity UV LED output.  Requuires no replacement lamps or filters.  Ultracure 6 is a powerful and compact piece of equipment at only 50.4mm x 32mm x 122mm (2″ x 1.28″ x 4.8″) UV array 8mm x 50.4mm.  Each unit is equipped with a driver, cooling fan and integrated circuits, 24VDC/700mA.  Ultracure 6 technology is "cool" safe and flexible.  Other variations of Ultracure available for customer specific requirements
Contact us for more information