Our 8000 series re-closable fasteners are a fastening solution strong enough to replace screws, bolts and rivets. The fasteners contain hundreds of mushroom-shaped stems that easily join together to form a secure attachment with strong adhesive backings that adhere to your substrate.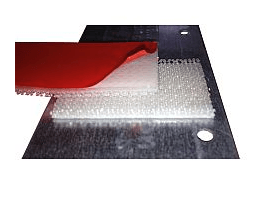 Adjust, realign or reattach with ease, leaving your product with clean, smooth lines free of holes or interruptions.
When your product requires thousands of easy openings and secure closings, eliminate the work and weight of mechanical fixings, choose CTA 8000 series Re Closable Fasteners.
Stock Sizes: 25mm
Adhesive: Acrylic / Rubber
Colour: Clear / Black
Also can be cut to specific lengths.
Typical applications for CTA reclosable fasteners
This dual locking product is ideal when needing to firmly bond materials together and have the ability to reopen. Used in many different situations from access panels on trains and buses to cover panels in lifts.
You may also be interested in our Hook & Loop (Alternative to Velcro)
Prior to application of Re Closable Fasteners the surfaces should be made dry and free of any dirt, dust and grease with the use of IPA. Use sufficient pressure over the whole surface at room temperature to ensure maximum adhesion to substrates. Ideal application temperature is between 21 – 40 deg c. Primers can be used to increase the bond performance and surface tension.