If you want to promote your brand or product then CTA can create printed packaging tape with your company name on, which can be used instead of standard packaging tape. This branded tape enables you to have your company name advertised on parcels, shipped products or storage boxes.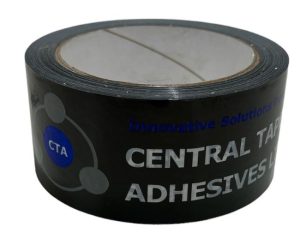 Benefits of printed packaging tape
An ideal way to advertise and promote new products, getting your marketing messages across quickly and creatively.
Branded tape can reduce loss or damage of your products in transit. Opened seals and damaged security tapes can be easily identified.
This tape can enhance the appearance of your products, promote your company and integrate your tape with your brand identity.
Purchasing information
Our printed packaging tape is available to purchase online in widths of 19mm, 25mm, 38mm, 50mm, 75mm, 100mm and 150mm. This tape is available in lengths of 66m, 132m and 1,000m. If you have any other specific requirements, please contact us. All prices are inclusive of VAT.
If you have any questions, do not hesitate to contact us via the yellow chatbox, fill out our online contact form, email us at [email protected], or call us directly on +44 (0) 121 378 2909.