Hook & Loop alternative to Velcro is a re-closable fastener.  It can be pressed together to fasten and pulled apart to separate.  Hook & Loop can can be opened and closed many thousands of times.  It is available with a pressure-sensitive rubber based adhesive backing or a plain backing for sewing or even stapling.
Fastener consists of two woven strips, one covered with stiff hooks, the other with malleable loops.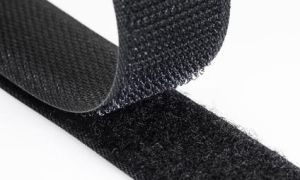 When your product requires thousands of easy openings and secure closings, eliminate the work and weight of mechanical fixings, choose CTA 7000 series Hook and Loop Fasteners.
Available below:  25mm wide x 25m length in black or white / 20mm wide x 25m length in white.
Remember to order 1 roll of Hook and 1 roll of Loop!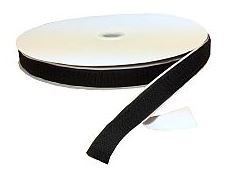 The price below is the price you pay inclusive of VAT
Hook & Loop alternative to Velcro can be cut/slit to specific lengths to suit your application and we do have other variations available.  Contact us for more information or why not ask us now on our Live chat box below.
Hook & Loop fastener applications
Hook & Loop alternative to Velcro is ideal when needing to bond materials together with the added bonus of quick and easy reopening. Used heavily in the textile, furniture and signage industry.  The textile and furniture industry use these products on recovering chairs with different fabrics. The signage industry predominantly use these when fabricating and seeming banners for exhibitions.  There are literally hundreds of uses for our Hook & Loop products.
You may also be interested in our CTA 8000 series Re Closable Fasteners which is a fastening solution that can replace screws, bolts and rivets. The fasteners contain hundreds of mushroom-shaped stems that easily join together to form a secure attachment with strong adhesive backings that adhere to your substrate.
Prior to application of our Velcro alternative the surfaces should be made dry and free of any dirt, dust and grease with the use of IPA.  Use sufficient pressure over the whole surface at room temperature to ensure maximum adhesion to substrates.  Ideal application temperature is between 21 and 40 degrees Centigrade.  Primers can be used to increase the bond performance and surface tension.