Die Cutting is a process of using a die to shear webs of low strength materials such as pressure sensitive adhesive tapes or foam.  Die Cutting can be specifically made to suit your production process.   Having a tape die cut to suit your application requirements can vastly speed up your production process and assembly time.  In addition to the aesthetics, your component can be improved.
Most of our products can be re engineered from an original roll to a die cut tape.  This is applicable for our double and single sided tape range and even our re-closable fastener range.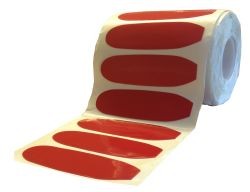 The adjacent and below images show our Clear foamed acrylic tape 6110c being processed into a customers required dimensions and shape, presented on an over sized liner enabling easy removal from the liner and onto a component.
Die Cutting application
Our products can apply to any industry.  This process could be used within the Industrial sector by Sign companies for letters to the automotive industry for badges and trim. For more information on Die Cutting tape please contact our technical team.